[ Cardinal Pale Ale | Big Horn Premium Ale | Bandersnatch Milk Stout | Sundevil IPA | Seasonal Brews ]


About Our Beers


All of Our Beer is...
Brewed In Our Own Brewery in the custom built mash tun.
Served Directly From Our Bright Beer Tanks Located In The Brewery.
Lightly Carbonated To Enhance Its Natural Flavor.
Brewed With The Finest Malted Barley, Hops, Water And Yeast !
No Preservatives Or Chemicals Are Ever Used.
SOLD ONLY IN OUR PUB.

The Cardinal Pale Ale is a classic style pale ale using
imported Target, Fuggles and East Kent Goldings hops.
4.5%
This English style E.S.B.
(Extra Special Bitter)
is Brewed with enough imported English hops to give a
pronounced hop aroma, flavor, and finish.
5.0%
This is a full bodied stout with a full malt flavor,
a sweet lactose finish and a creamy nitrogen head.
Milk does a body GOOD!
6.0%

Bandersnatch Seasonal Brews


Besides the three flagship brews we also keep 5 other beers on tap created by brew master Joe Bob Grisham. Check out our brew board for a description of these seasonal delights.
At 6.66%, a healthy Malt mouth feel, and 69 IBUs, you got to get some!
A wonderfully smooth Amber with a hint of roasted barley.
4.5%
13 IBU and 3.9%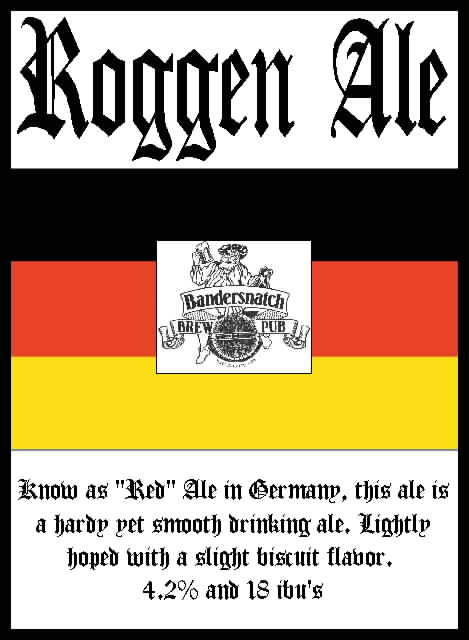 The Roggen "Rye Ale"!
The Jumtum Tree Barley Wine
It's the Barley Rye! A blend of Pale, Munich, Crystal 80, Victory and Rye Malt.
This is real fun at 8.2 %
It's the Roggen on steroids!